NIOVI
Elegant luxury house built with the most demanding specifications.
| | |
| --- | --- |
| Surface: | 360 sq.m. |
| | 3,875 sq.ft. |
2 Living Rooms
2 Kitchens
5 Bedrooms
5 Bathrooms
3 Storage Rooms
1 Laundry
Fully furnished
Parking spaces (4 cars or more)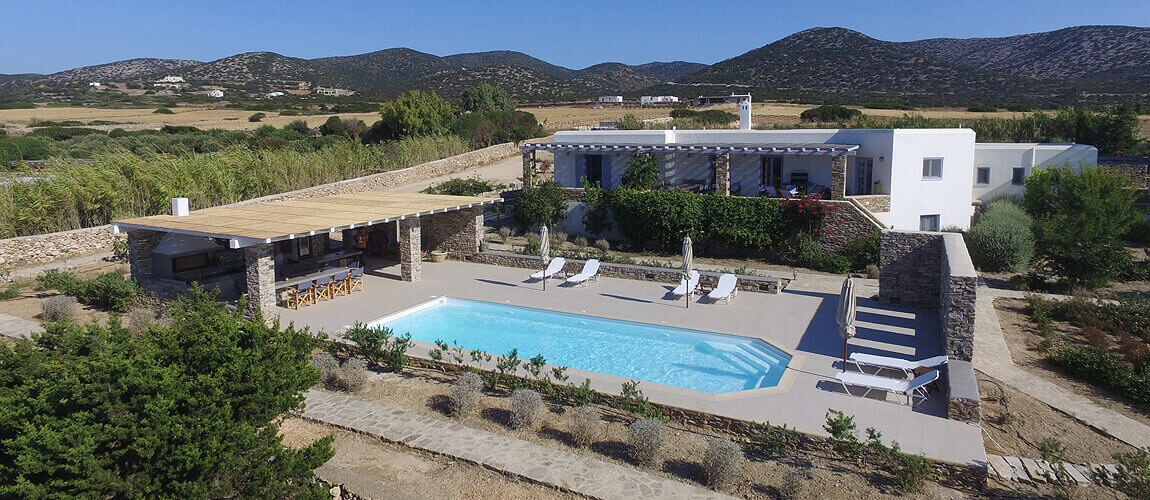 Large reception areas with huge, sea-view veranda with spacious built-in sitting-dining area. House has a fireplace and is equipped with full central heating, ventilating and a/c system.
Level (1) is also about 180 m.sq. surface area, consisting auxiliary kitchen, auxiliary living room, as common spaces. Additionally, this level includes and three (3) more bedrooms and three (3) bathrooms. Level (1) is arranged in such a manner, whereby it is possible to isolate 2 bedrooms and 1 bath, together with the auxiliary kitchen and auxiliary living room, as to form an independent apartment, with its own independent entrance to the garden.
Level (2), is about 180 m.sq. surface area, with full kitchen, dining room area and living room area. On this level there are also, two large Master bedroom suites, each with its own "in-suite" bathroom.
Level 1

Total surface: 180 sq.m. consisting of:
Auxiliary Living room
Auxiliary kitchen
1 Bedroom suite with independent "in-suite bathroom"
2 Bedrooms
2 bathrooms
Storage Room
Laundry room

The above rooms can be split into 2 sections.

Section 1 – an apartment, consisting of kitchen, living room, 2 bedrooms, 1 bathroom, with independent entrance
This apartment is ideal for children's or youngsters or maids' independent quarters, away from parents/family.

Section 2 – the remainder, consisting of 1 bedroom suite, and other common spaces can be a part of the remaining house together with those rooms in Level 2.
Level 2

Total surface: 180 sq.m. consisting of:
2 bedrooms, with independent "in-suite" bathrooms
1 main kitchen
1 main living room area
1 main dining room area
On this level, there is also a shaded terrace, of about 120 sq.m, surface area additional to that of the house, with a built-in dining table for 12 persons, and independent cocktail table surrounded with "chaise-lounge" chairs.